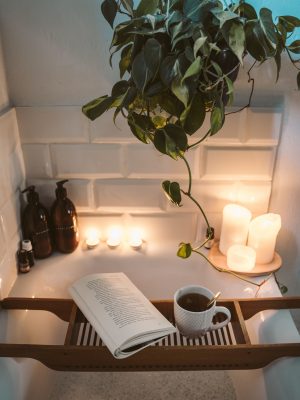 Self-care is an important task that we should perform regularly in order to help maintain good health and wellbeing. Yet leading a busy lifestyle can often mean that implementing an effective wellbeing routine can often become last priority. In addition, spending time to do the things that serve our wellbeing requirements may feel self-indulgent. However, by making time to participate in activities that nurture your health and wellbeing will be far more beneficial than neglecting this area of your life. For example you will be able to manage daily tasks more effectively both at home and at work. Furthermore, participating in self-care can help manage symptoms of stress and mental ill-health, as well as helping to prevent problems from getting worse.
Here are a few ways that you can implement self-care into your routine:
Treat yourself to a massage
Introducing massage into your routine can help relaxation and improve overall health. Studies have shown that massage can help boost circulation in the body, alongside reducing blood pressure and boosting the immune system.
Listen to music
Through music we experience a range of emotions, such as feeling joy, calmness or even sadness. . Listening to your favourite music can help your body to relax. Try creating a playlist that you can use specifically for winding down after a busy day.
Meditate
Meditation can help relax the body and the mind for a harmonised state of calm. Our brains can often become over-worked in our daily routines, so the use of mediation techniques are a great way of calming down after a busy day. You can access techniques through the many meditation apps that are available to help you improve your mediation levels.
Meet new people
Being sociable can help improve confidence levels and self esteem, whilst also encouraging communicational skills that are important in both the workplace and at home. Why not attend a class or activity that you otherwise might not have considered, or speak to someone new in the office this week.
Go for a walk
It is well known that participating in exercise is good for us! It supports improved sleep quality, increased fitness levels, reduced stress, protects against anxiety, and can improve self-esteem. Walking is one form of exercise that most of us can fit into our daily routine. Joining walking a group is a good way to stay motivated, while also making great social connections. Consider going for a walk on your next lunch break, perhaps ask a colleague or friends to join too, and start reaping the benefits.
Receive your Wellbeing Bulletin
Subscribe to our mailing list to receive your free 14 day Mindfulness Challenge along with our monthly Wellbeing Bulletin which includes:
Handy tips and advice to improve your personal wellbeing.
A monthly wellbeing activity.
Discounts on wellbeing training, events and products